Tips for Planning a Successful Ski Trip to Sierra Nevada
Sierra Nevada is the highest mountain range in Spain, located in Andalusia, in the southern part of the country. It is a popular ski resort that offers over 110 kilometers of ski slopes, ranging from green slopes for beginners to black runs for experienced skiers and snowboarders.
Resort altitude 2100m - highest lift station 33oom above sea level!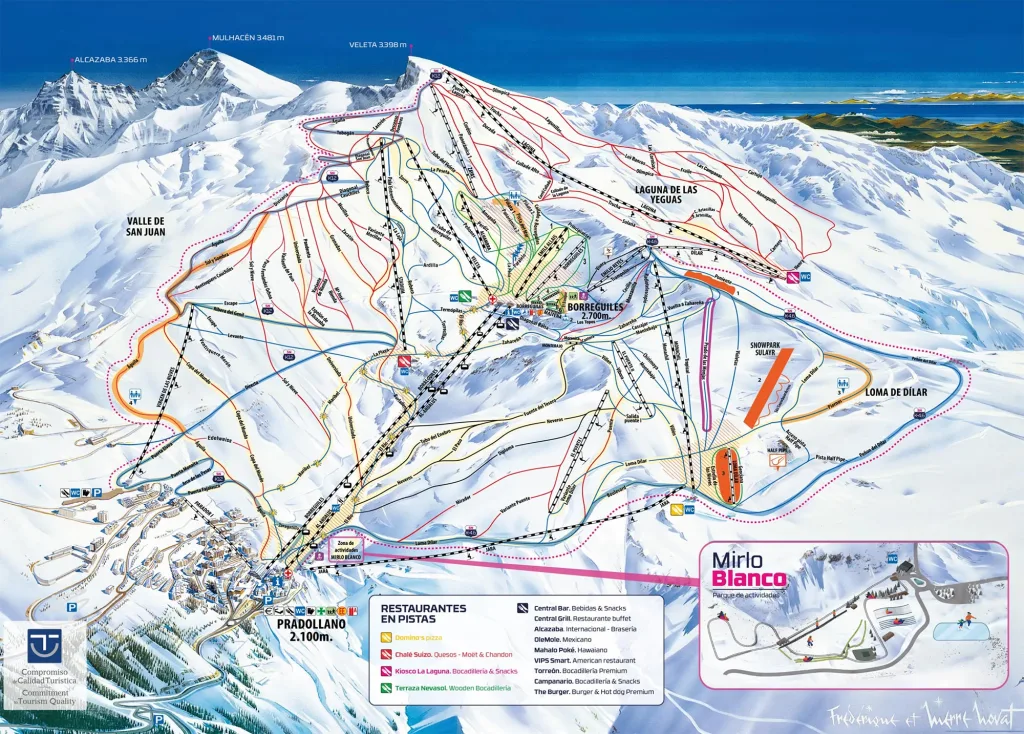 Link to slopes maps, 👉🏻 Click Here
The best time for skiing in Sierra Nevada is from December to March, when the snow conditions are at their best. In April, temperatures may become too high to maintain a stable snow cover.
Last season, we traveled to Sierra Nevada in mid-February. The conditions on the slopes were excellent, primarily thanks to the meticulous work of snowmaking machines, which created ideal skiing conditions. However, in the town, there was more of a spring-like atmosphere than a winter one.
How to get there and where to look for accommodation?
📌 PRADOLLANO is a mountain town that operates as a ski resort during the winter, situated at an altitude of 2,100 meters. Before your trip, it's advisable to equip your car with wheel chains. I didn't see any shops selling such accessories at the top, so it's better to have them with you. You can purchase them, for example, at Feuvert or on amazon.es.
❗️ When the weather conditions are challenging, roads are covered in snow, and there's a risk of icy patches, police patrols check and turn away vehicles that lack the necessary safety equipment.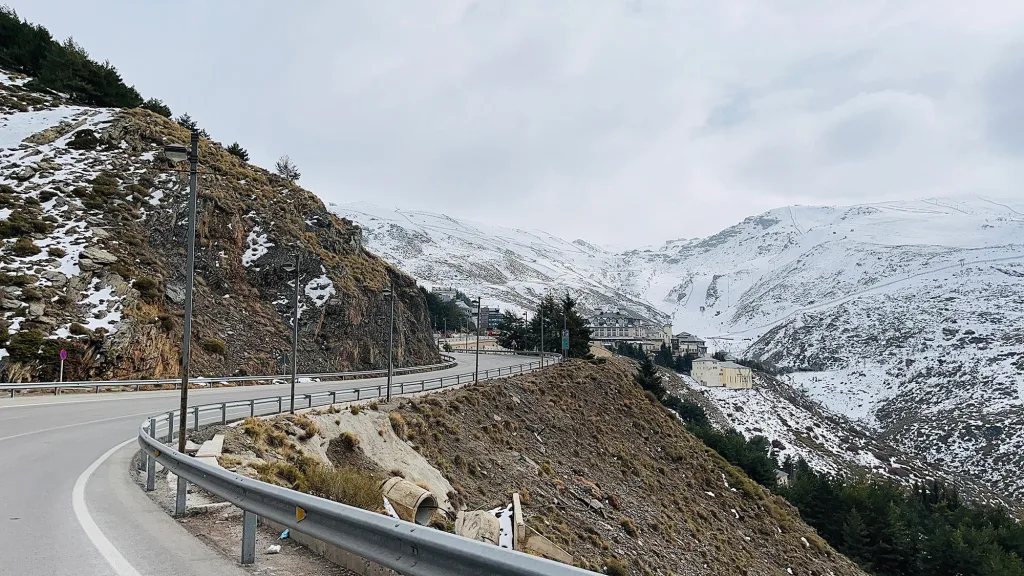 In Pradollano, as befits a mountain resort, you can find shops with ski and mountain equipment, equipment rental shops, restaurants, hotels, spas, cafes, and various other attractions.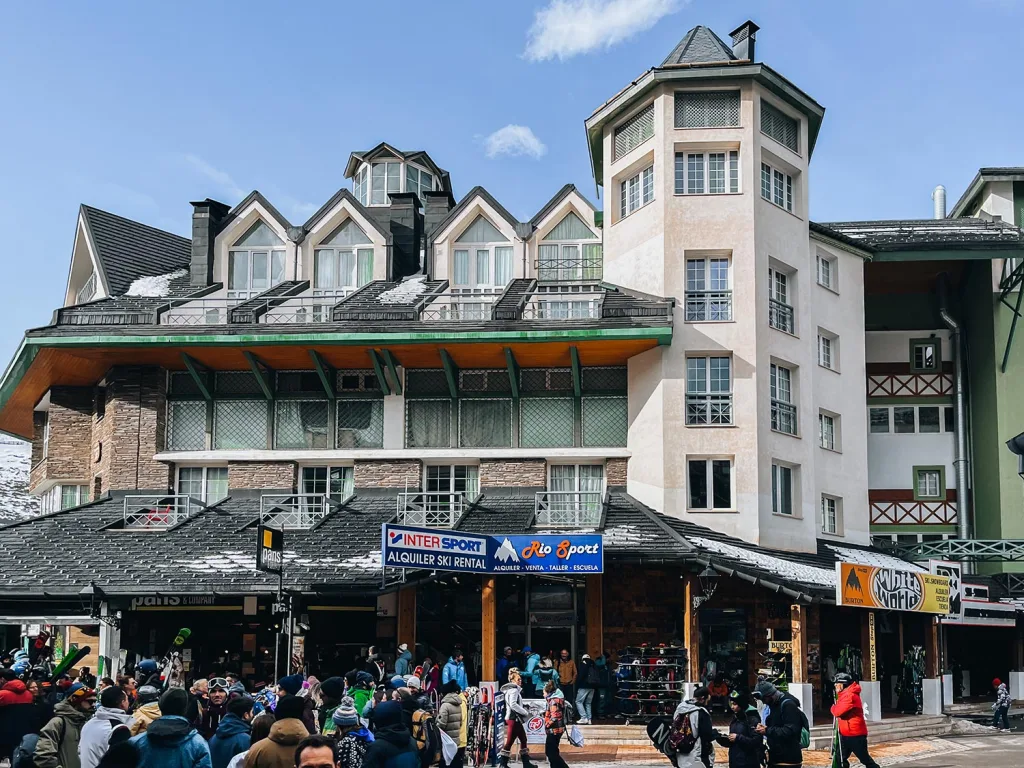 If you're looking for ski schools, there are plenty to choose from. Check out the offerings by searching in Spanish: "escuela de esqui pradollano." Many instructors also speak English. These schools offer skiing excursions for children and organize group downhill sessions that last several hours.
With pleasure, I can recommend a Polish ski and snowboard instructor - Tomek, who trained our little one on skis last year. Check out his website 👉🏻 Click Here
Sierra Nevada ski pass
In the Pradollano area, there are vending machines selling ski passes near the lift stations.
Prices for equipment hire and ski passes, prices in 2022:
Parking facilities for cars and campers in the Sierra Nevada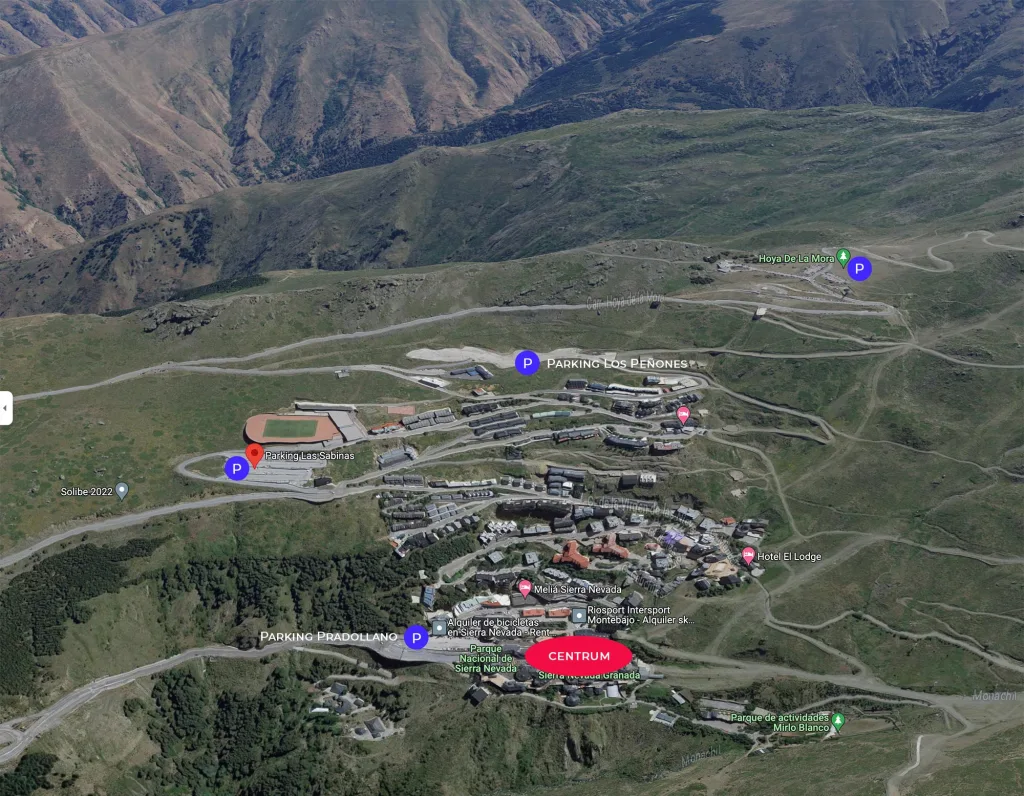 Pradollano Parking - usually very crowded, but it is right in the centre of Pradollano and close to the main ski station
Los Peñones Parking- in the upper part - the minus is the distance to the centre, but it is possible to take the ski lift from the upper station. Telesilla Parador
Hoya de Mora Parking - far from the centre, but you can go down by skli lift
Las Sabinas Parking - it is the only campervan park. Unfortunately the walk to the centre takes about 20 mins, there is a bus option available, I read that it leaves regularly at 30 minutes, costs more than 2 euros.
You can also look for a parking space in the streets of the town, but most often all the parking spaces are usually taken or reserved for hotel guests.

Go skiing with a dog
When planning a ski trip, we must always consider the needs of our dog, who accompanies us on all journeys.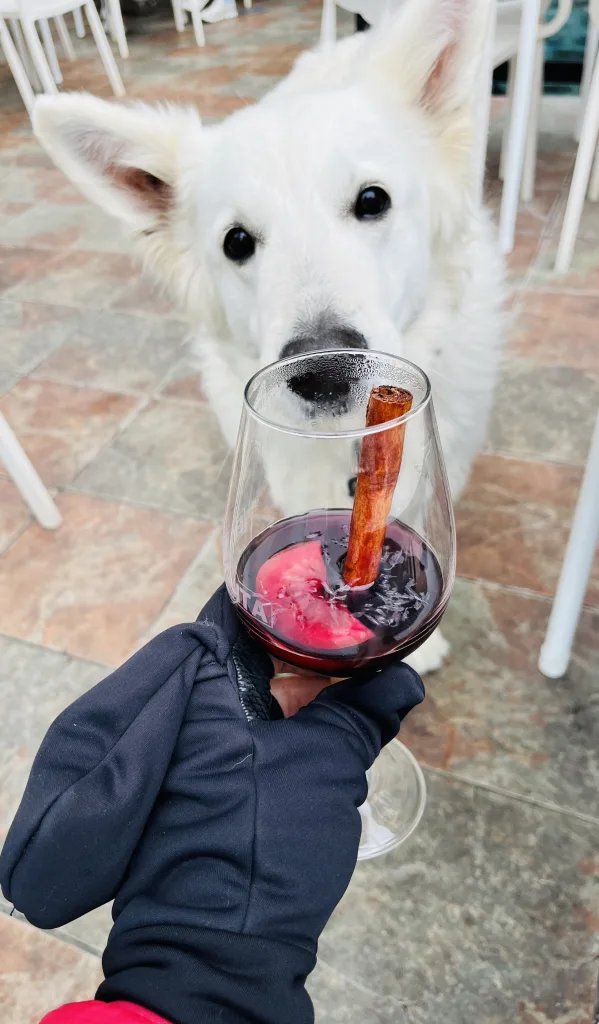 Options for those travelling with a dog:
Dog hotels/pet sitters: They offer full care for dogs, including food, walks, and play. If you're interested in this option, please check the website for more information Click Here. People willing to care for animals advertise on this website. A quick check shows that the nearest carers are in Granada, which is a long way from Pradollano. However, the situation may change, so it is worth checking.
Cottages/hotels: It happened to us that the hotel had a listed option to stay with a dog, but when we wanted to check in we were refused a room because of the size of the pet... Since then, we ask every time if the big dog wouldn't be a problem.
Holiday Apartments: Some flats allow dogs, it is best to contact the owner in advance.

👉🏻 Check out the accommodation offers📍 Sierra Nevada: Click Here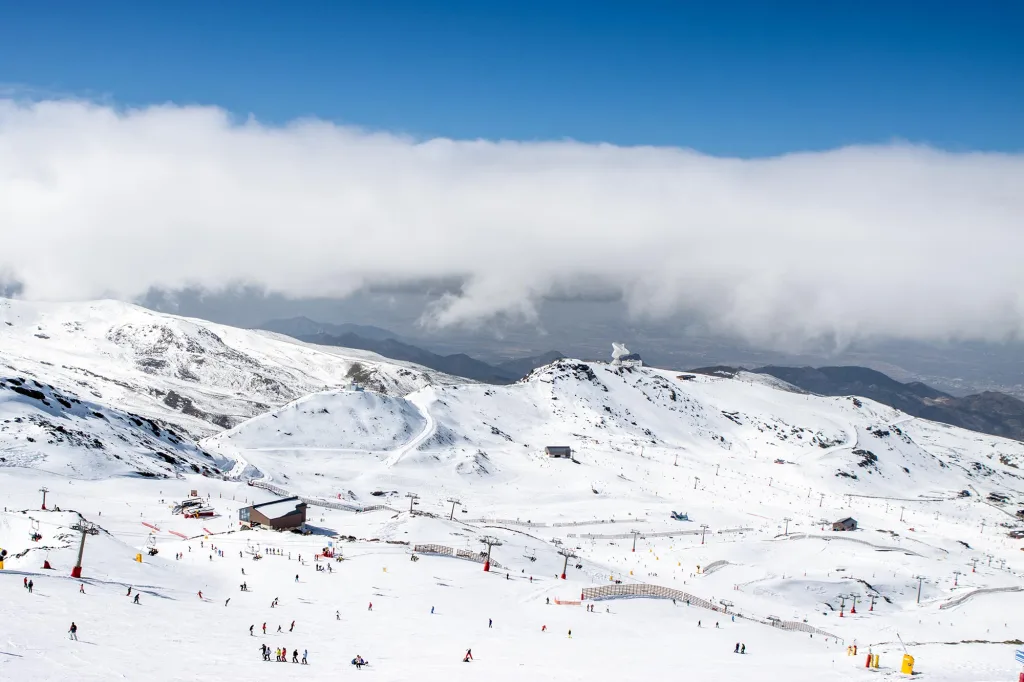 In Pradollano, there are several hotels that allow dogs to stay. We are familiar with two such places, and we were satisfied with our stay. They may not have been luxurious accommodations, but, after all, we came to enjoy the mountains, not the room.
We try to book accommodation right next to the ski lift entrance so that we can quickly take turns, every 2-3 hours, to take the dog for a walk.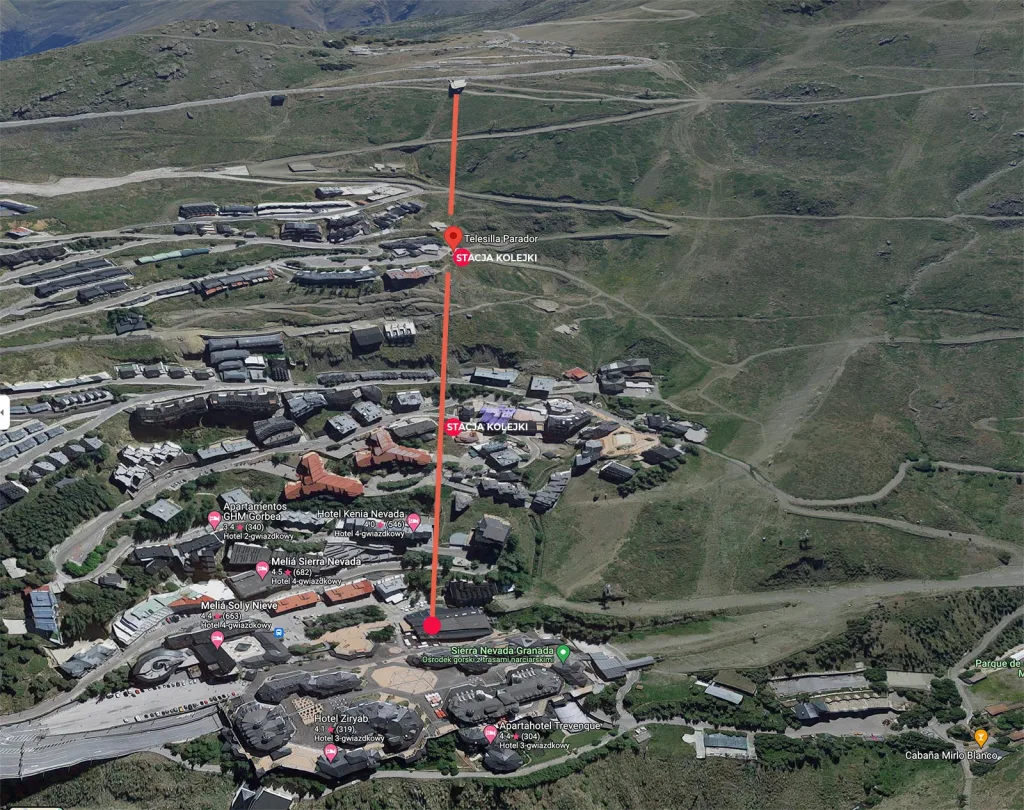 Sierra Navada - offer for children
In addition to ski schools and regular slopes, there are also attractions for younger children within the village. There's a downhill slide, a perfect hill for sledding, and it's an absolute blast for the kids! 😊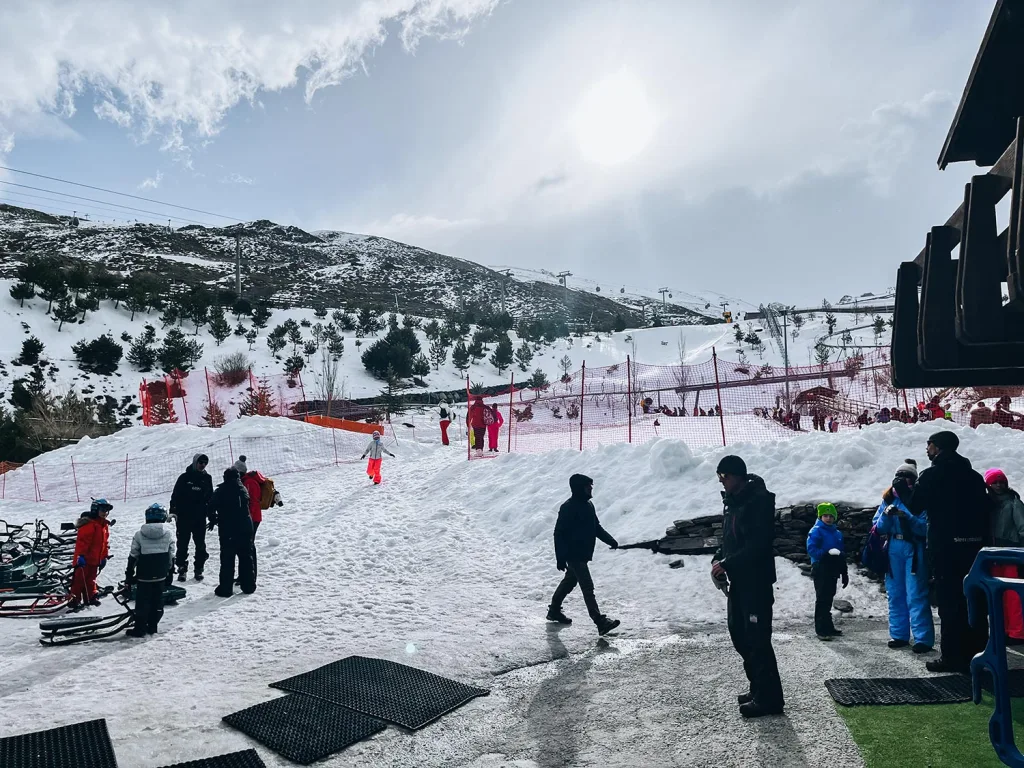 There is also a playground, a small lake, and a stream. On the day before our departure, due to strong winds, all the ski lifts were closed at 2:00 PM, and on the last day, when we also wanted to hit the slopes, the lifts remained closed. When the wind is blowing in your face, you can sweeten life by eating churros with a great view of the snow-capped peaks of Sierra Nevada... 🔆❄️⛷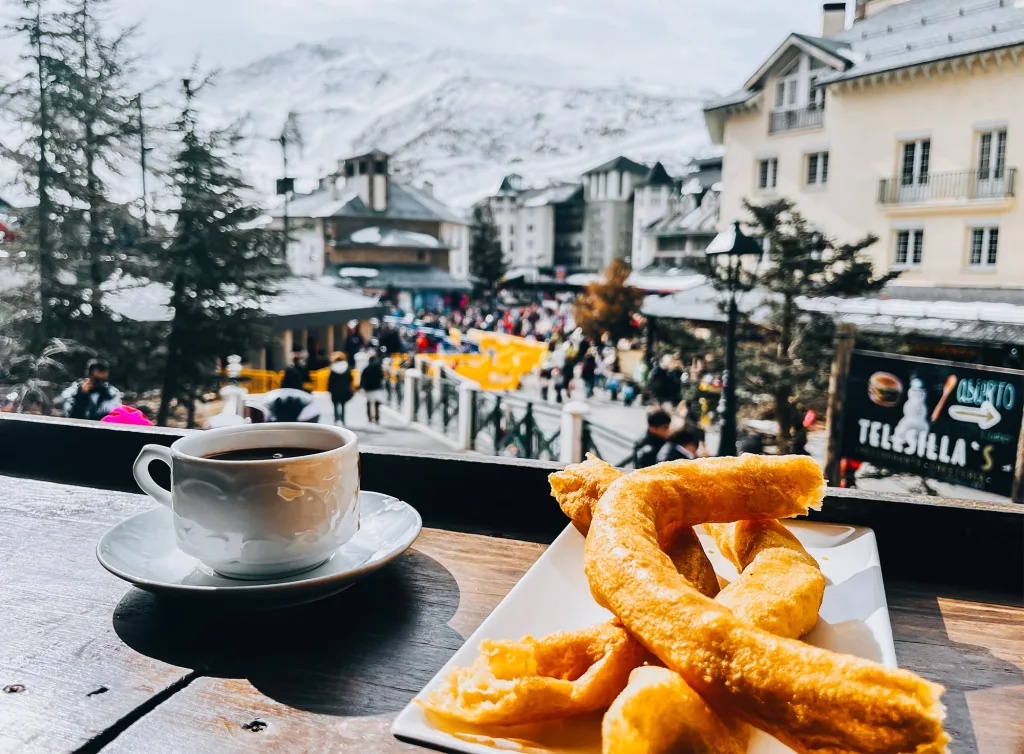 If you have any questions or advice for others, feel free to share them in the comments; that's all that came to mind on this topic 😉... In the 23/24 season, we're planning to go back, so I'll have something new to share about Sierra Nevada.
If you visit the area during the summer, you can take the same ski lift to reach the summit of Veleta, and perhaps even conquer the highest peak on the Iberian Peninsula - Mulhacen 3478 mnpm.
📌Article about our trip to the summit - Click Here.
📌 Article about beautiful Granada - Click Here
📌Article about a great place to visit in Granada - especially if you are travelling with children -. Click Here
🍽 👉🏻 In the heart of Pradollano is an Italian restaurant Restaurante Ci Vediamo. Tasty, I can recommend 👍🏻
Sierra Nevada official website: CLICK HERE