If you're planning to visit Portugal with a drone to capture aerial views of your travels, be sure to familiarize yourself with the regulations and key rules for using it in this country. This will help you avoid unpleasant situations, such as when a guard suddenly appears and asks you to delete the contents of your drone's memory card in front of him, gives you a fine, or, in the best case, only reminds you to follow the rules.
Drone Usage Regulations
General European regulations created by EASA (European Union Aviation Safety Agency) state that if you are the owner of a drone weighing less than 250g and you are flying in the open category, which assumes:
keeping a safe distance from bystanders,
ban on flights over gatherings of people,
flights may only take place within the pilot's line of sight not higher than 120 metres from the nearest point on the ground,
a ban on transporting dangerous materials,

you do not need to undergo any special training or obtain a license to fly. However, it is a good idea to check the regulations again after January 1, 2024.
On that date, the current transitional regulations will be replaced by the proper regulations, which will be based on the European Union's Unmanned Aircraft Systems (UAS) regulations.

I use a drone that weighs more than 250g. I wanted to take a training course in the Open A2 category to learn more about flying a heavier drone. I already have a certificate of competency for operators of drones in the A1-A3 categories, which I obtained by registering on the Polish Civil Aviation Authority (ULC) website and passing an online exam. Link to polish site ULCI'll admit that I was a little confused by the distinctions between A1-A3 and the separate A2 category, so I decided to get training and a certificate to avoid any problems.

To obtain a certificate to fly a drone in the category of Open A2 , you must either complete a training course and pass an exam at an approved training center or take an online exam. If you choose to take the online exam, it will take about 40 minutes, cost 69 polish zloty, and be proctored by a Zoom moderator.
Certificate numbers must be placed on the gear.
Penalties for violating drone regulations can be severe. They range from a friendly smile from a law enforcement officer reminding you to follow the rules to a fine of up to 15,000 PLN or even imprisonment for property damage or injury.
Drones can be insured for third-party liability in the event of an accident caused by the equipment!
Rules of drone flying in Portugal
Whoever is familiar with the subject will be familiar with the EASA website. Click here, the European authority that regulates drone operations in the European Union, it is worth refreshing your knowledge from time to time.
In order to start flying in Portugal you need to register at the website of the Portuguese National Aviation Authority: Click here. Once you have registered, you will be given access to a panel. You will also receive a PDF document that you will need to sign digitally using the instructions provided. Alternatively, you can print the document and mail it to the government office.
A permission (or refusal) message to take flights will be sent to the email provided at registration.
This link & this are important links. Zyou will find all the requirements and information there. The most important of these are:
Drone insurance is not mandatory in Portugal, but the Portuguese Civil Aviation Authority (ANAC) recommends that drone operators purchase third-party liability insurance to cover any damages that may be caused by their drone.

Drones cannot be used to take photos or record videos without permission from the national aviation authorities!

Drone pilots must maintain visual line of sight with their drones at all times during flight.

When flying a drone, manned aircraft always have priority and the right of way.

Toy drones (i.e. drones weighing less than 250g) cannot fly over people or higher than 30 meters.

Drones, regardless of weight, cannot fly over gatherings of people in open spaces, which are considered to be groups of more than 12 people.

To fly a drone weighing more than 25 kilograms (55 pounds), at night, or beyond visual line of sight (BVLOS), you must obtain a special permit from ANAC.
Drone free zones
Drones are prohibited, banned or conditioned in the following areas:
Drones are prohibited in open gatherings, in special operational protection zones around airports and helipads, and in facilities that house government agencies, embassies and consulates, military installations, security services, police and civil protection missions, prisons, and educational facilities of the General Directorate of the Rehabilitation and Prison Service.
Drones are banned or conditioned in most national parks. To fly over a protected national park, you must complete this form and send it to ICNF, IP, at the following email address: rtn@icnf.pt
In addition to restricted areas, drone operators should be aware that there are also height restrictions in Portugal. ANAC has set a maximum height of 120 meters (393 feet) for drones. Operators should be mindful of this and exercise caution when flying near tall buildings or other tall structures.
Based on my experience, drones near Faro Airport will not even take off. The propellers will not start. I wanted to fly over an area that is several kilometers from the airport, away from the flight corridor, but thanks to the installed apps, the equipment decided for me that it could not fly in that area.
Useful links about drone flying in Portugal:
A bit of general information - Click Here
App Voa Na Boa This is a useful tool for anyone who wants to fly a drone in Portugal. It contains a map with marked areas where it is prohibited to fly or where there are certain restrictions.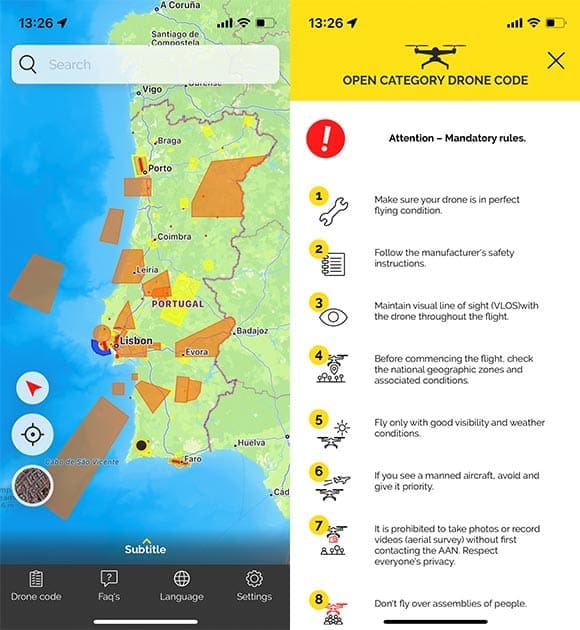 The official website of the Portuguese Civil Aviation Authority, which, as I mentioned, you need to register with – Click Here
I read, but I don't remember the page, that in order to be able to fly near beaches and maritime facilities, you must obtain permission from the Portuguese National Maritime Authority. I haven't found these requirements anywhere else, I'll provide a link, it might be useful. Click here.
I would invite you to visit my Instagram where I upload photos and videos created mainly in Iberia, often with the use of a drone Click here 😉

If you have any additional information, or experiences on this topic, please write in the comments...