Who created it and why?
The famous Spanish bull is known as El Toro de Osborne, or the Osborne Bull. Initially, it served as an advertising billboard but eventually evolved to become a national symbol of Spain.

El toro de Osborne, el toro de España, proudly proclaim the Spanish, which translates to The Osborne bull, the bull of Spain...
Who was Osborne?
The name comes from one of the prominent family vineyards operating in Spain, Bodegas Osborne. The company's history dates back to when the vineyard's founder, Thomas Osborne Mann, arrived in Cadiz with the intention of exporting the local sherry. Over time, he established numerous trade connections, founding in 1772 a winery in El Puerto de Santa María, which successfully thrives to this day. With over 240 years of splendid family heritage, the winery stands among the 100 oldest companies in the world.
In 1956, the Osborne group decided to change its image by commissioning the Azor advertising agency to design a symbol to promote the brandy they produced. The design of the bull was entrusted to the highly talented studio director and graphic designer Manolo Prieto. His idea of the "bull by the road" was met with general disapproval.
However, the project moved from plans to reality. In 1957, the first bull was erected in Cabanillas de la Sierra, along the road from Burgos to Madrid.
Initially, the bulls were constructed using wood, but the weather conditions compelled the designers to use steel panels instead. Each bull weighed 4 tons and measured 14 meters in height.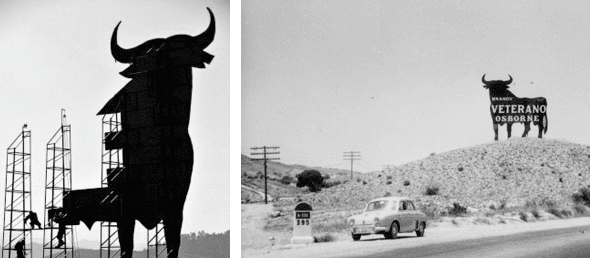 Over the course of several years, around 500 bulls were placed throughout Spain.
Currently, there are 90 of them. Most were dismantled due to road regulations in 1988 that prohibited placing advertising signs within less than 150 meters from the road surface. Subsequent years brought about a fierce dispute between officials and the vineyard's administrators over maintaining their corporate symbol near roads.


In 1994, another change in road regulations faced staunch opposition in the form of a joint action by city councils and autonomous communities, under the banner 'Salvemos al toro' – 'Save the bull.' They advocated for transforming these symbols into cultural assets. In 1997, the Supreme Court recognized the non-commercial nature of these bulls. Emerging as symbols of strength and masculinity, they became motifs for numerous artistic endeavors and projects. Undoubtedly, they're easily found in souvenir shops throughout Spain.
While traveling through Andalusia, you can encounter as many as 22 bulls!
Traveling to Cadiz, it's worth visiting the Osborne Vineyards!