Capitals of the Andalusian Regions - Almeria

We lived in Almerímar, near Almería, for almost a year, exploring the region. At that time, the blog was not even in the idea phase...
The name of the city and province of Almeria originates from the Arabic "Al-Mariyah," which means "mirror of the sea." It was given by the caliphs of southern Spain, who leveraged its eastern location in the sunniest and driest province of Andalusia to make it a bustling gateway for trade with the Maghreb and the East. Ships filled with silk, cotton, brocade, and other goods from the world of that time constantly sailed from Almeria. The city was not only crucial for trade but also because it hosted one of the strongest and most numerous fleets in the world at that time.
Rozwój techniki budowy statków zainspirował w 995 roku pierwszego kalifa Hiszpanii Abd ar-Rahmana III, do wydania decyzji o wybudowaniu stoczni, co zaowocowało 500 lat później zaawansowaną inżynierią budowy wytrzymałych karaweli, które posłużyły do odbycia zamorskich wojaży, oczywiście m.in. przez Krzysztofa Kolumba.
Another crucial decision made in the year 955 was the relocation of the provincial capital from the city of Pechina to Almeria and the initiation of the construction of a defensive fortress – La Alcazaba. Stanęła ona w centralnym punkcie miasta, na wzgórzu (obecnie św. Krzysztofa). Górując nad miastem stanowi okazałą, historyczną pamiątkę. W czasach swojej świetności imponowała powierzchnią 25000 m² i była najpotężniejszą arabską twierdzą w Hiszpanii.

While on St. Christopher's Hill, it's worth taking a stroll to the Mirador del Cerro de San Cristobal, the highest viewpoint in the city. From this spot, you can admire the panoramic views of Almeria and its surroundings, including the sea, beaches, and the mountain ranges of Sierra Nevada and Sierra de Gádor.
For centuries, Almeria, like other coasts of Andalusia, struggled with pirate attacks. Additionally, the strong Christian influence displaced Arabic culture from these lands, leading to the destruction of numerous monuments and the conversion of mosques into churches. Ultimately, in 1489, the Catholic monarchs transformed the character of Alcazaba, demolishing Arabic centers of worship. In 1554, at the city's focal point, they commenced the construction of a grand cathedral.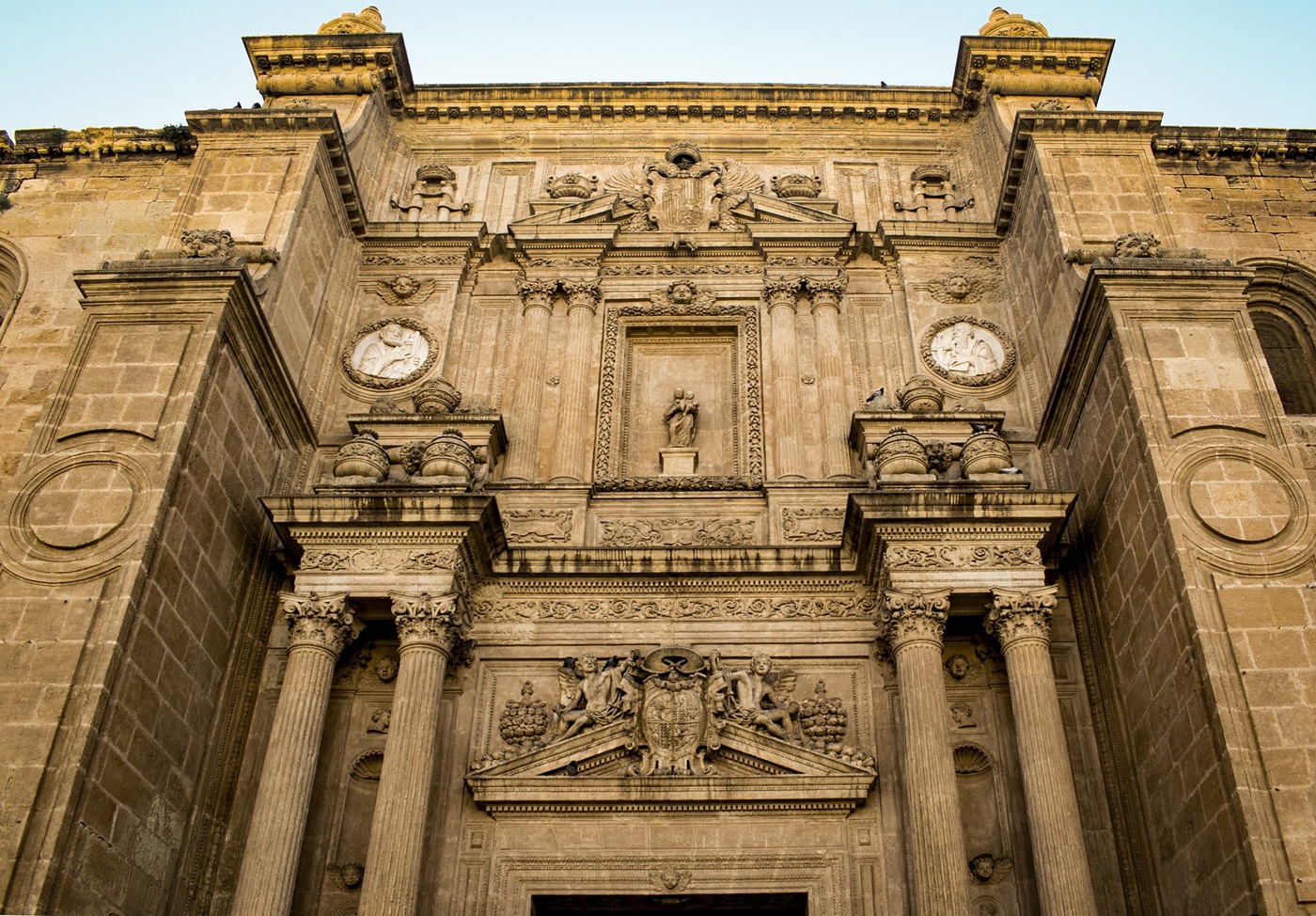 The city prospered until the year 1658 when a powerful earthquake turned the entire region into rubble - only ruins remained, along with around five hundred inhabitants!
It wasn't until the 19th century, due to the iron ore trade, that the decision was made once again to modernize the waterfront and revive port activities. Currently, it is divided into three main parts:
Commercial - from which you can take a ferry to Africa or European ports
Fisheries Area - serving fishing units
Recreactional Area - including beach and construction El Cable Inglés - iron ore loading ramp.
While walking in the Puerto y Parque Nicolás Salmerón, it is worth going to the pier to get a perspective of the city from the sea.
In 1895, with the development of maritime trade, the construction of the Estación del Ferrocarril (Railway Station) began. It is an excellent example of the so-called "iron architecture," a term derived from the technique often used at the time in the construction of utilitarian buildings, where structures were built by combining iron components with brick and wooden elements.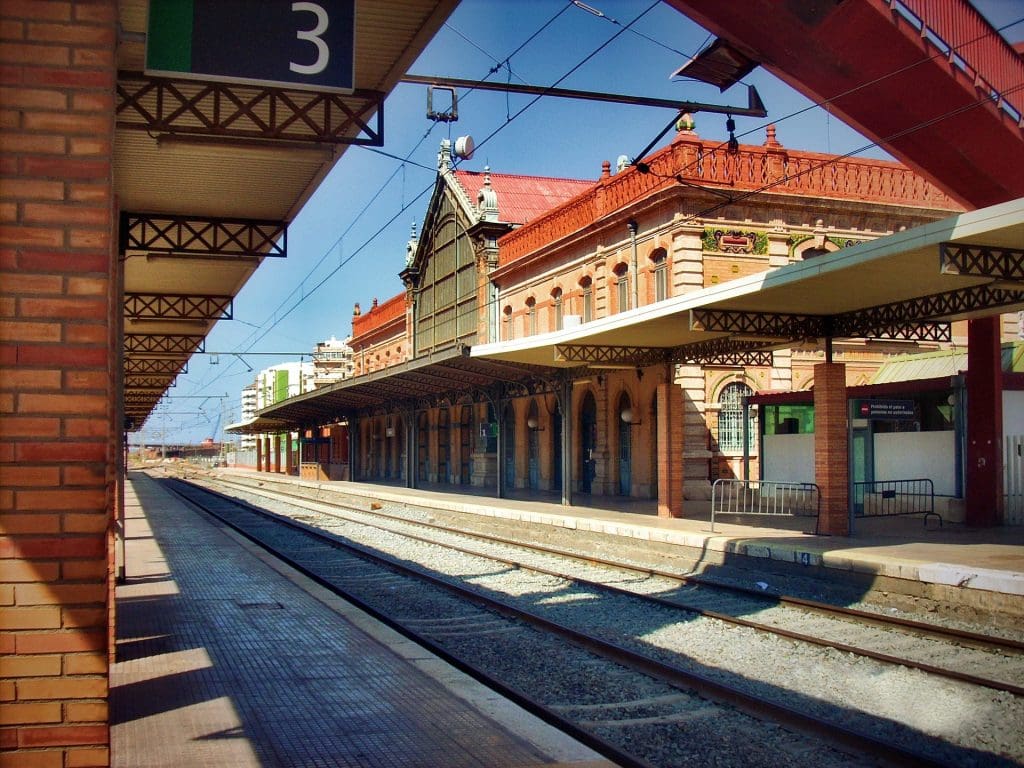 ChatGPT In the 20th century, the region experienced a resurgence, surprisingly owing much of it to its desert climate. Local farmers initiated large-scale greenhouse food production, while successive film crews descended upon the desert to shoot productions of what are known as spaghetti westerns. Along with the region's successes, tourists began to arrive, appreciating the sunny beaches. To this day, methods for obtaining drinking water from seawater are perfected on solar farms, and research continues on the most optimal ways of harnessing solar energy. All of this has made Almería one of the richest regions of Andalusia.
The city itself is not a very popular tourist destination, but I encourage you to explore it. It is rich in a variety of attractions and beautiful architecture, including: Cathedral, the John Lennon monument (Where did it come from? Read here: Click Here), or museums such as the Museo de Almería - small in size, but with an extraordinary exhibition outlining the history of the region and the city.

The intersecting narrow streets with a rich offer of dozens of tapas bars, hotels, and shops are similar to other towns in Andalusia, but there is something unique about it, and knowing the history of the place makes it easier to feel its atmosphere.


Due to the presence of a university, the city attracts young people who give rhythm to the nightlife.
_
Be sure to taste some of the local specialties, such as: wine, olives, Spanish ham, cheeses, fresh fish, and seafood.
Flamenco
...is an essential part of a summer vacation. Be sure to visit one of the flamenco cultural centers and experience this crazy, hot rhythm. Excellent places to contemplate artistic performances are: El Morato Flamenco Centre, and El Taranto Flamenco Centre.
Places worth visiting:
Centro de Interpretación Puerta de Almería (Muralla Califal) - archaeological museum
For those interested in the topic of war, I recommend to visit Museo Refugio de la Guerra Civil - where you will learn about the history of the Spanish Civil War, which was also waged on these lands.
Plaza de la Constitución - the city's oldest market squareClick to apply
In the souvenir shop, don't forget to buy a souvenir with the symbol of Almería - Indalo, and after a shopping spree, head to the seaside promenade, where you will certainly relax in one of the chiringuitos, a seaside restaurants.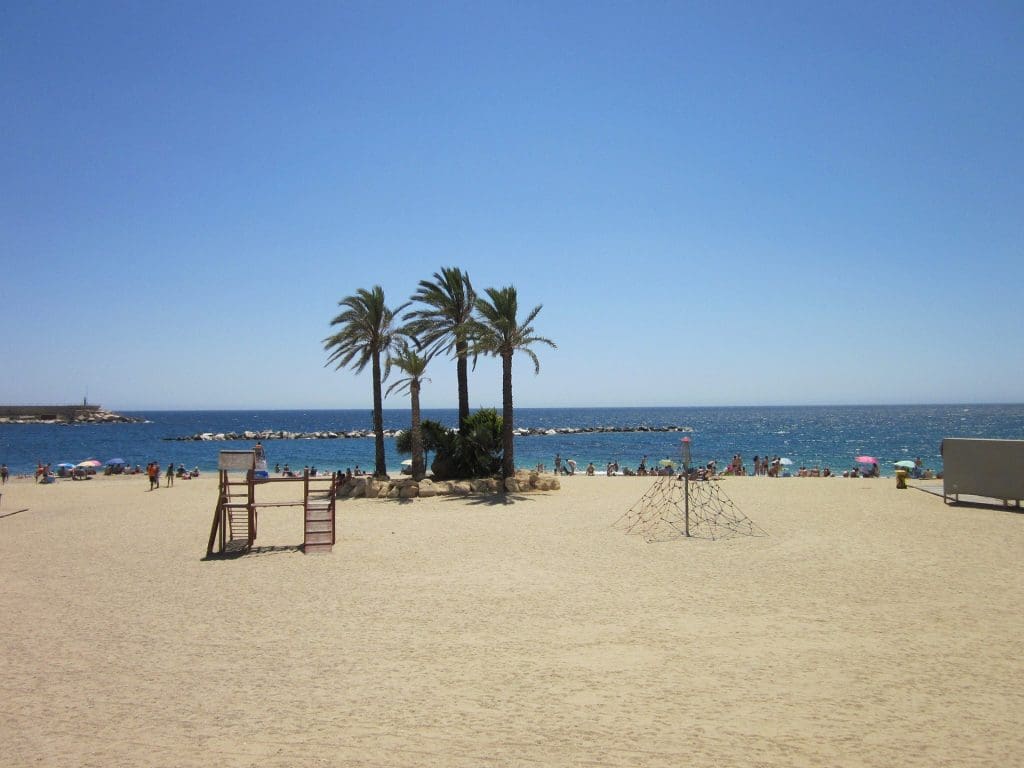 The territory of the province of Almería is a fascinating geotouristic attraction, not least because of the Cabo de Gata-Nijar park, located just under 30 km from the city of Almería, which is the largest (with an area of 460 km²) land-sea nature reserve in Western Europe.

The park is home to around 1100 species of animals, the majority of which are birds, such as flamingos, herons, cranes, ospreys, peregrine falcons, and eagles. Due to its values, resources, and extensive bird breeding grounds, Cabo de Gata was recognized by UNESCO as a biosphere reserve in 1997.

This place is a must-see!
How to become a gunfighter?



All you have to do is go to MiniHollywood in the Tabernas desert - the only real desert in Europe!




It is worth mentioning that it is precisely due to the proximity of this place that Almería has a dry and hot climate. Tabernas is one of the hottest places in Spain, with temperatures reaching 45 degrees Celsius!


Jeśli myśleliście, że filmy "Za garść dolarów", "Za kilka dolarów więcej", "Dobry, zły i brzydki", "Indiana Jones i ostatnia krucjata", czy setki innych spaghetti westernów były kręcone w gorącej Arizonie, to jesteście w błędzie. Sceneria almerskiej pustyni do złudzenia przypomina pustkowia Arizony, a dzięki kompleksowi MinHollywood odbędziecie prawdziwą podróż na Dziki Zachód.

Miasteczko powstało w 1966 roku, z projektu współpracownika Sergio Leone, architekta Carlo Simi na potrzeby filmu z Clintem Eastwoodem "Za kilka dolarów więcej". Setki holywoodzkich gwiazd pozostawiło ślady w tym miasteczku, m.in: Clint Eastwood, Brigitte Bardot, Anthony Quinn, Claudia Cardinale, Alain Delon, Sean Connery, Raquel Welch, Orson Wells, i wielu innych.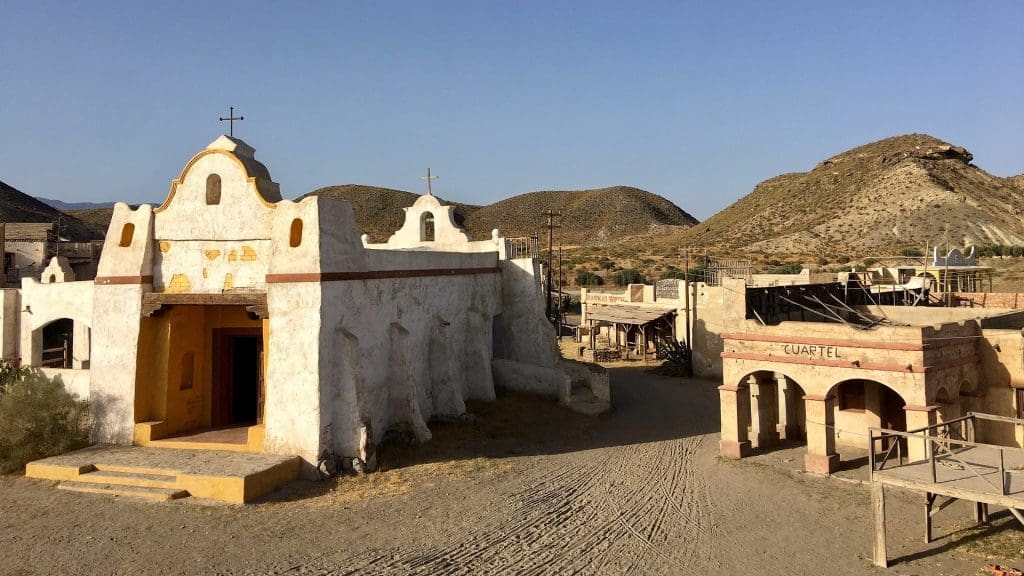 3 locations for those eager to play sheriff:
Oasys Theme Park - is an attraction for the whole family, with a zoo, swimming pools, etc.
Fort Bravo - built especially for the film "The Good, the Bad and the Ugly" - it is perfectly preserved and you can visit a Wild West-style saloon, bank or prison.

Western Leone - still serving as a film set. The whole thing makes for great entertainment for the whole family!
While exploring the monotonous and yet intriguing landscape of Tabernas, it is worth stopping by the Las Eras Antonio Gazquez restaurant to try their cuisine.
Interesting facts of the region
The walls of La Alcazaba and other places in Almeria have often become film backdrops. They are known from the frames of productions such as:
Indiana Jones and the Last Crusade
The song "Strawberry Fields Forever" was composed by John Lennon during his stay in Almería. In the center of the city, you can find a statue of the artist in his honor. To learn more, Click Here

It is interesting to note that in 1880 two Belgian archaeologists discovered Europe's oldest Copper Age settlement just outside the town

The province of Almería is called "the garden of Europe". It is one of the largest greenhouse areas in the world. Plastic tunnels stretch to the horizon. They are not only found on the outskirts of the city, but throughout the province.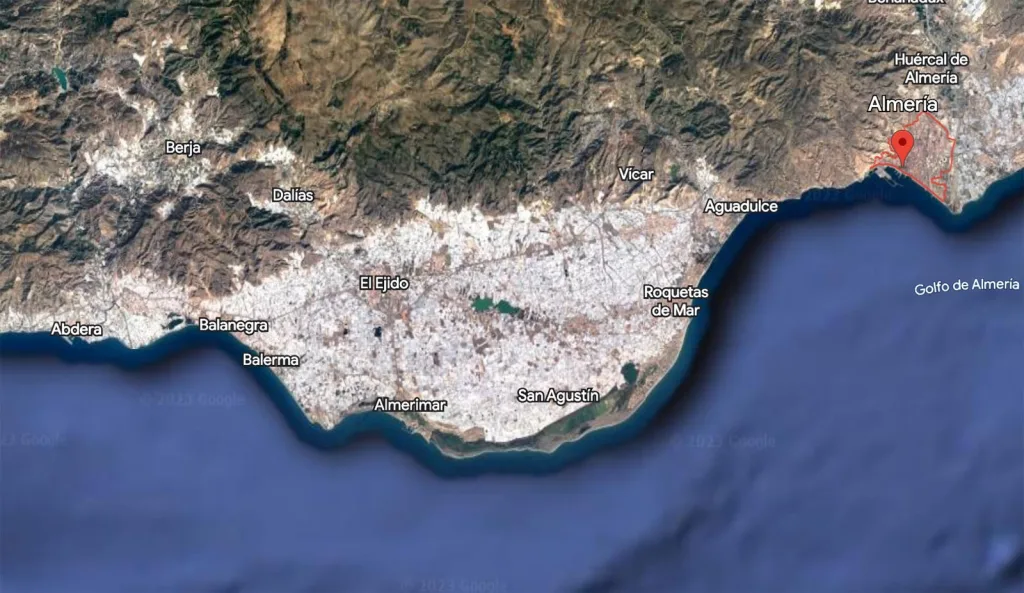 PS The white areas around El Ejido are greenhouses and everything related to them. Very strange place. I won't elaborate, maybe I'll mention it sometime. I'll just add that it is a very common destination for illegal immigration in Europe. Someone has to pick those vegetables and fruits. In Spanish television, a crime series called "Mar de Plastico" was broadcast some time ago. It means "Sea of Plastic" and is a very good production.
Interesting cities near Almeria
Roquetas del Mar - one of the largest holiday resorts.
Almerimar - paradise for water sports fans. It is famous for its affordable rental accommodation right by the sea, and its attractive marina.
San Jose - very pleasant atmosphere of a small coastal town
Nijar - Andalusian town with enchanting beaches
Mojácar - There is always a lot going on here, especially during the fiestas, known for its iconic Indalo
Los Vélez - located in the mountains. I recommend a visit to the old castle

For cave and geology enthusiasts
In this area, the province of Almeria has a lot to offer. If you are a cave explorer and enjoy geology, I recommend visiting some of the following sites:
Salt Travertines - desert salt deposits
Cuevas de Sorbas - an attraction for cave explorers, Click Here for more information
Rodalquilar (Cabo de Gata Natural Park) - old abandoned mines, a view familiar if only from the Indiana Jones and the Last Crusade
Letreros Caves (Santa Maria - Los Vélez reserve) - you can admire the rock paintings from the Neolithic period - they have been declared a UNESCO World Heritage Site
Cerro del Hoyazo - a small volcano near the town of Nijar
Crystal cave (geode) in Pulpí - you can read more about it in the article National Geographic Poland
For Nature Enthusiasts and Adventurers
Almeria is a birdwatcher's paradise - where to watch the birds, more information Click Here
Tabernas Desert
Natural Park Sierra María-Los Vélez
Natural Park Cabo de Gata-Níjar
Sierra de los Filabres - an interesting mountain range
Sierra Alhamilla - for the mountaineers

The most beautiful beaches of the province of Almeria
There are many of them, with special attention deserved by Playa de los Muertos near Carboneras. Other notable ones:
Serena Beach (Roquetas de Mar)
Monsul Beach (San Jose)
El Playazo (Rodalquilar)
Cala de Enmedio (Agua Amarga)
Playa de Aguadulce (Aguadulce)
Paseo de Almeria (Almería)
Playa de los Genoveses, Playa San Miguel (Cabo de Gata)

Official Almeria's website Click Here

How to get there?
You can read about what to navigate in Andalusia - Click Here,
or use the form below 👇🏻🔆
Map with the most interesting sites in Almeria